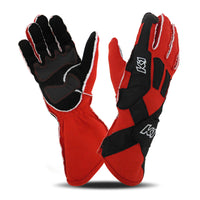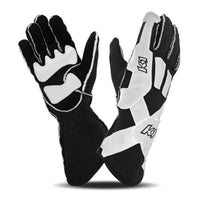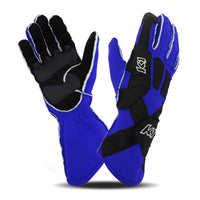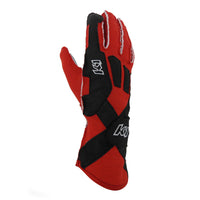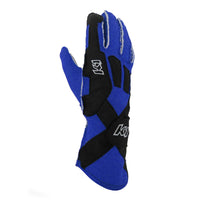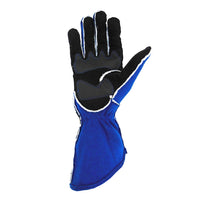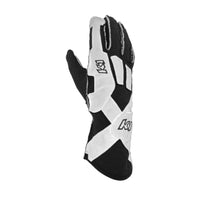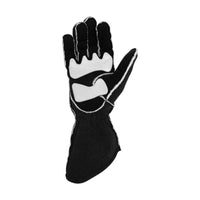 Pro-XS Glove - Nomex SFI 3.3/5
[short_description]
If you need nomex racing gloves or are looking for a pair of durable, stylish and comfortable driving gloves, our K1 Pro-XS line should be your first choice!
At K1 Race Gear, we manufacture our own line of racing equipment and kart gear, which allows us to have direct control over design, manufacturing, quality assurance, and pricing. We chose to invest in our own line of race gear so that we could offer our customers products that are specifically designed to meet their needs at extremely competitive, if not unbeatable prices. We are extremely proud of our K1 Pro-XS gloves, and feel that they represent the best value in racing gloves on the market. We believe that you would be hardpressed to find a new pair of gloves by another manufacturer that has all of the features of our Pro-XS at our list price! If you would like to order our Pro-XS nomex racing gloves, please contact us today. Rest assured, our Pro-XS driving gloves will not disappoint!
Learn More about Our Pro-XS Driving Gloves
Our Pro-XS nomex racing gloves have a variety of features that make them superb driving gloves for auto racing and karting. Among these features are reverse stitching, which greatly improves comfort and usability. With reverse stitching, the seams are on the exterior of the glove rather than on the inside, thus eliminating any discomfort that arises from seams coming into contact with your fingers for extended periods of time. As racers ourselves, we know that any discomfort, regardless of how insignificant it may appear, can distract you and cause you to lose focus over time, which is why we designed our Pro-XS nomex racing gloves with reverse stitching. We are confident that the Pro-XS will be one of the most comfortable pair of gloves you have ever worn! Our Pro-XS driving gloves are perfect for professional competition and any racing class that requires the use of nomex racing gloves. We understand that to meet the needs of our clients, we need to offer a full range of racing equipment in addition to our line of kart gear, because many of our customers compete in a wide variety of motorsport classes. With our Pro-XS nomex racing gloves, we believe that we have driving gloves that are a perfect match for nearly any type of racing, and we are confident that you will feel the same way that we do as soon as you try them on!