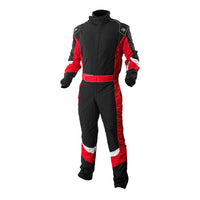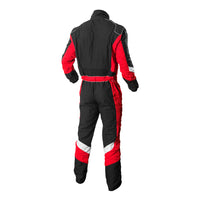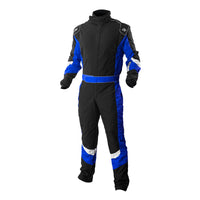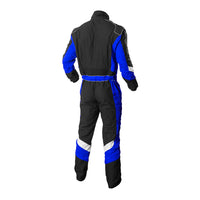 Precision
[short_description]
SIZE CHART
[/short_description]|[config]|
The K1 Precision auto racing suit is a Nomex SFI-rated fire suit that is perfect for auto racing venues. At K1 Race Gear, we are committed to offering our customers high-quality karting and racing equipment at a great value, which is why we decided to produce our own line of karting and auto racing products called K1 RaceGear so that we could control design, production, distribution, and pricing. Having our own line of race gear allows us to offer high-quality, uncompromised products to our customers at superb, if not unbeatable prices! The K1 Auto Racing Suit is made with Superb Quality and Value.
Product Details:
2-Layer Nomex Construction
SFI 3.2A/5 certified
Soft, knit-Nomex collar and cuffs
Knit shoulder gusset for full range of movement
Available in red or blue accent colors
Sizes: Small through 3XL
We like to think that the K1 light weight auto racing suit combines the safety of a Nomex fire suit with the comfort and value of a K1 Race Gear racing suit into one unbeatable package. We're confident that you won't be disappointed with the K1 auto racing suit! We are dedicated to customer service at K1 Race Gear, and we will do what we can to help ensure you are satisfied with our products and service. If you would like to learn more about our K1 Race Gear products, don't hesitate to contact us. We would be happy to help answer any questions you may have or assist you with ordering the right product to suit your needs! It's not your regular suit!